What is Thermal Spray
Thermal spray is a coating process in which melted wire or powder materials are sprayed onto the surface of the work piece.

Thermal spray coatings not only repair damaged surfaces, but can replace worn surfaces with a stronger, better-wearing finish that can keep your equipment running better, longer.

Thermal spray can also extend the life of your NEW parts by coating them prior to putting them into service – this will maximize your investment in new parts for your process.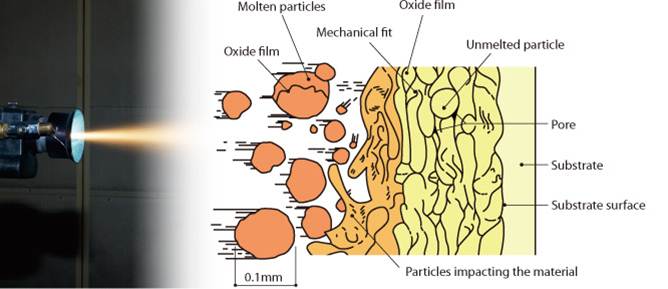 Benefits of Thermal Spray
Reduced Cost

–

Instead of making the entire part out of an expensive material, a high-performance material is sprayed onto a low-cost base material.

Low Heat Input

–

Thermal-sprayed coatings do not impact the substrates' microstructure. The coating does not penetrate the base material, i.e., there is no heat-affected zone.

Versatility

–

Almost any metal can be sprayed.

Thickness Range

–

Can build up from 0.001″ to more than 1″ thickness, depending on the coating sprayed.

–

Coating thicknesses generally range from 0.001″ to 0.100″.

Processing Speed

–

Spray rates range from 3 to 60 lb/h depending on the material and the spray system.
Other benefits include:
Thermal Spray is a mature process dating back to the early 1900's – with proven results
Application Specific – Engineered Coating
Superior Wear Resistance
Excellent Corrosion resistance
Dimensional restoration
Excellent Bond Strength
Provide textured surfaces for traction/grip
Heavy Build-ups More Quickly
Minimal heat build-up in base metal (<300°F)
Types of Thermal Spray
Click below to view a description of the different types of Thermal Spray
High Velocity Oxygen Fueled (HVOF)
Twin Wire Arc Spray (TWAS)
HVOF Videos
TWAS Videos